Welcome to the "Introduction to Communication and the Consultation" unit which has been designed to take approximately 100 hours of study time to complete. Because there is a lot of material to work through, and reflect upon, I have divided the material into ten, weekly packages, which should help keep you on track and reduce your stress levels.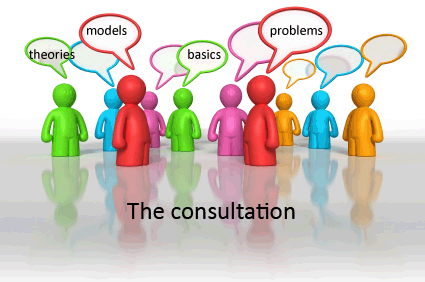 There are three assignments. In addition to the familiar essay based assignment at the end of the unit there is also an online timed Multiple Choice Question (MCQ) exam along with discussion board (forum) activities where you are requiredto post a specified number of messages (at least 6) to pass the unit. I know from having devised online courses for over ten years now that it is very difficult to keep motivated working on one's own therefore I hope this structure along with the enforced communal activities will help somewhat.
The assessed, timed MCQ will be made available to you for approximately the last two weeks of the unit. The MCQs that appear in the final exam will have been taken from those you encountered during the course.
Looking at the weekly plan below you can see that this course takes a bottom up approach, the first week looks at communication in general, along with some basic psychological research findings of which many of you will be familiar. While this may appear to be a very basic general introduction I have tried to hint at aspects that will gain more importance latter in the unit.
The second week introduces the concept of consultation models, of which there are as many as weeks in the year. Each person finds their own particular favourite and after looking briefly in the fourth week at issues of diagnosis and treatment I ask you to apply one of the models to your own consultation and post your feelings about it on the forum (which will help prepare you for the main assignment).
At this point you are approximately half way through the unit and now we look in more depth at specific aspects of the consultation, such as difficulties including, breaking bad news and dealing with different cultures that often feel alien. Another alien, in some people's eyes, we consider is the use of the computer in the consultation and see how some have turned it into a supportive friend. The unit material ends with a general review, including findings, of clinical decision support techniques and software available.
I have allocated two of the weeks in the timetable for you to prepare your assignment. Details of which can be found in the link below.
While you do not need to follow the weekly plan I find it helps, both from a personal perspective where it ensures you work through the material towards the assignment in a logical and measured way, and at the group level where it allows us to discuss the concepts one at a time on the electronic forum and help one another along the way.
Most of the material is deliberately in pdf format which allows you to print it out and work through it anywhere.


Learning Outcomes
· Be aware of core psychological findings that are relevant when considering the consultation
· Be able to critically evaluate various Models of the consultation
· Be able to apply a selected consultation model to one's own consultations to enable evaluation
· Have knowledge of factors that facilitate effective giving of bad news
· Have knowledge of cultural factors in the consultation
· Have knowledge of how to use the computer appropriately in the consultation
· Be aware of the main findings concerning Clinical Decision support research
· ·Gain practical skills in applying various consultation models to a videoed consultation
· Develop analytical skills in reflecting upon the application of various consultation models to assess your own, and recorded consultations  
· Gain practical skills in applying various consultation models to your own consultation

Weekly plan
If you feel that you can manage it, there is no problem with getting in front of the weekly timetable. The problems occur when you get behind!

week

Date (start)

Link to the material / Your thoughts -

References / resources

1

Post first thoughts message on the unit forum (link)
Communication – essential skills and knowledge

2

Continue to work through "Communication – essential skills and knowledge"
Consultation models

3

Continue to work through "Consultation models"

4

5

6

BMJ article How computers make efficient use of consultations BMJ  2005;331:1010-1012 

7

The difficult consultation - This week I provide you with five articles to read which I would like us all to discuss on the online discussion board

8

xx/xx/xx
Last day for draft submssion

Preparation for assignment
Assignment details

9

xx/xx/xx
Online timed MCQ becomes available

Decision support in the consultation - a review (contains MCQs which may be part of the MCQ exam) for your course you only need look at the Coiera article and the MCQs

10

xx/xx/xx Assignment due by xx/xx/xx 12 Midnight GMT

Catch-up week
Please note that extensions are very unlikely to be granted for this unit.
Page last updated 02/13/2010 9:00 PM temp